5 Hawaiian books to bring to the beach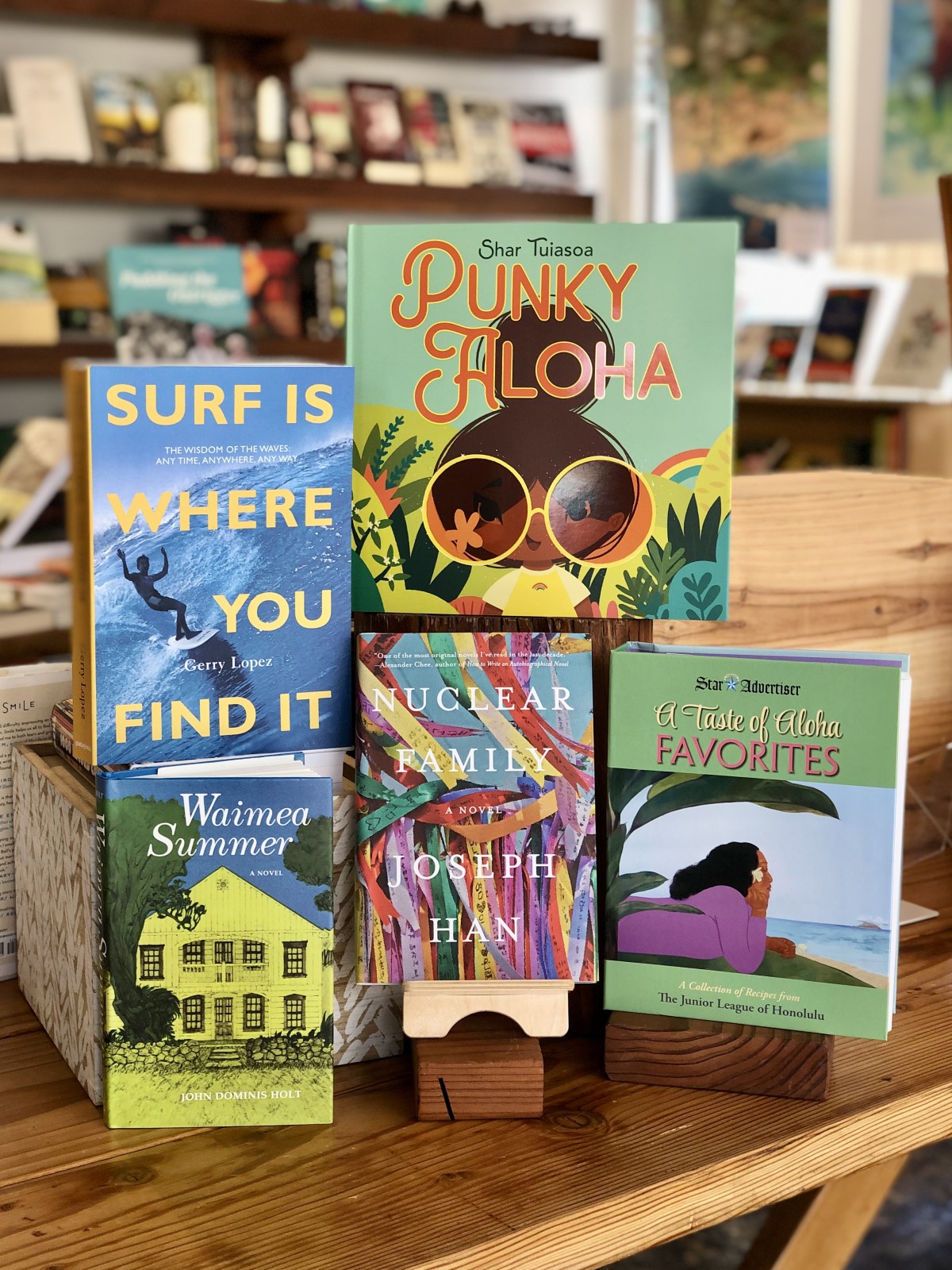 Summer means it's time for the beach and the books! With some hotly anticipated new releases this month, plus some tried and true favorites, there's something for everyone's summer playlist:
by Joseph Han
A contemporary novel about a Korean family in Hawai'i whose lives are about to change for the better when they are upset after the eldest son goes viral online trying to cross the DMZ. Early local novelist Joseph Han presents the portrait of an intergenerational family with humor and a touch of magical realism, all in the months leading up to the 2018 false missile scare in Hawai'i.
by Shar Tuiasoa
Meet Punky Aloha, a little girl who likes to do a lot of things except make new friends. But with the help of her grandmother, some magical sunglasses, and the spirit of aloha, she learns she can do anything. Local illustrator/artist Shar Tuiasoa releases her first book inspired by her quintessential Punky Aloha studio.
Meet Shar Tuiasoa at the da Shop on Saturday June 11 at 10 a.m. for a special keiki event. Signature of the author to follow the hour of the story.
SEE ALSO: Fall Fashion: 5 Local Hawaiian Artists, Designers & Business Owners Are Wearing The Latest Trends
by Gerry Lopez
This updated third edition features new photographs and coincides with the release of the documentary Yin and Yang by Gerry Lopez. A must read for surfers, surfing enthusiasts, and just about anyone who appreciates the bygone era when Hawai'i surfing history was made.
SEE ALSO: Leading Wāhine: These 5 local surfers are blue and crush it
A taste of Aloha favorites
by Honolulu Junior League
Going to a potluck or party? This collection of simple and classic recipes covers all local dishes, from pūpū to desserts. The delicious list goes on and on: Kim cheese dip, lumpia, somen noodle salad, Portuguese bean soup, miso chicken, Kahuku shrimp. This cookbook even contains The Willows prawn curry recipe, circa 1983. It's a treasure trove of recipes that locals love to cook and eat.
SEE ALSO: We Tried It: 9 Recipes From Sheldon Simeon's New Cookbook
Waimea Summer
by John Dominis Holt
A classic historical novel set in Hawai'i, Waimea Summer tells the coming-of-age story of a young boy who spends time on a ranch in Waimea. He begins to reflect on and reconcile the class and cultural disparities between Westerners and Native Hawaiians who reside in his community. Along the way, he must also ask himself the question of his place in the societal landscape.
SEE ALSO: Writer Cedric Yamanaka weaves gripping local stories into new collection of short stories
---
All of these books can be ordered through da Shop, our Best of HONOLULU 2020 winner for Best place to find your next great read. Find them here. The Kaimukī bookstore is open for consultation from Tuesday to Sunday from 11 a.m. to 4 p.m.
Da Shop: Books + Curiosities, 3565 Harding Ave., (808) 421-9460, dashophnl.com, @dashophnl