For the love of folk tales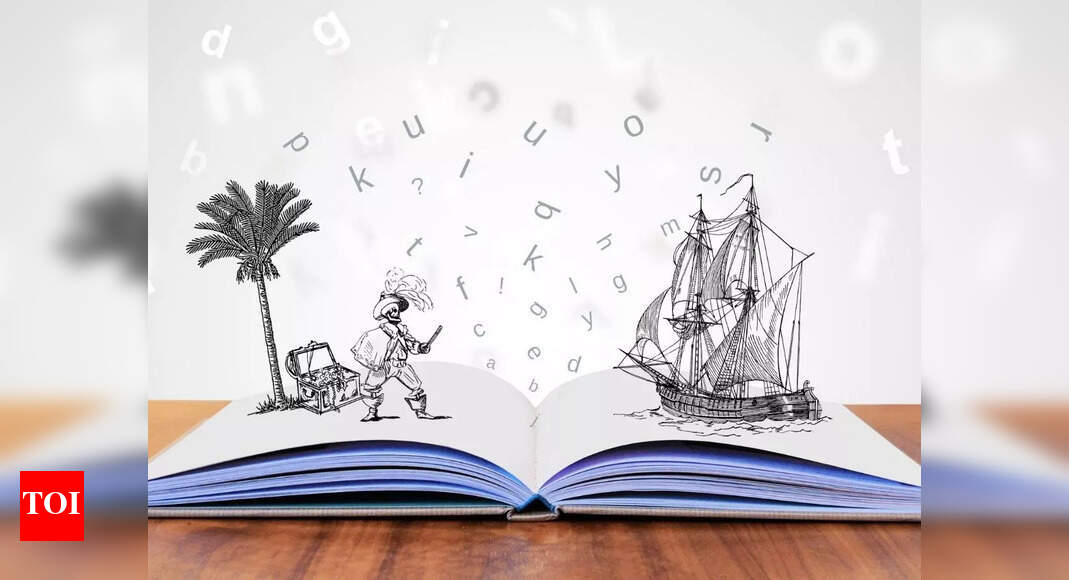 Byline: Sutapa Basu, Author, Winner of TOI Write India and AutHer Awards
'Folktales and myths, they lasted for a reason. We tell them again and again because we keep finding the truth in them and we keep finding the life in them.

—Patrick Ness
What are folk tales?
Folktales are stories passed from one person to another by word of mouth. Sometimes these stories are about real people and events or seek to explain the world around us. At other times, these stories rub shoulders with myths or legends. Imagination abounds as gods and demons mingle with ordinary men and women in a magical world. Animals offer wise sayings while smart, grumpy old women cast spells. There are tales that revolve around a popular figure like the sage Birbal of King Akbar's court or Anansi the West African spider.
Is it true that people spend so much time hanging on to screens that reading books is out of fashion? So what explains the skyrocketing sales of folktale anthologies in physical and online bookstores? Authors set about rewriting these age-old classics, they have become so popular with readers. Whether it's traditional stories from around the world or our own regional folklore, this genre attracts a wide audience, not only among young readers, but also among adults.
Why are folk tales popular?

Parents, teachers and caregivers have found that these highly entertaining classics also impart core values ​​and essential character traits. Since folktales have been passed down from generation to generation, they often embodied correct attitudes and subtly weaved attributes of confidence, courage, resourcefulness, and caring into the fabric of the stories. Without being preachy, these tales made folk heroes of people who stood up against injustice, dishonesty and wickedness. Unconsciously, these characters have become role models for young readers.
The protagonists of folk tales often encounter conflicts and must make difficult decisions or actions to resolve them. Young readers discover how good decisions lead to positive results while bad decisions lead to negative results. Folk tales provide paradigms to imbibe elements of effective decision-making that will help them later in life.
This ancient oral literature portrays various traditions of various countries and communities. Readers are exposed to history, cultural values ​​and traditions from around the world and have the opportunity to compare them to the beliefs they grew up with.
Since folktales were basically created for oral tradition, they were sharpened for passionate listening. Therefore, these tales are easy to remember, tell and share. Young readers can easily follow the plot or remember the sequence of events. Characters can be identified simply and clearly. When young readers listen to or repeat folk tales, the language skills of phonetics, fluency, vocabulary and comprehension develop spontaneously.
It's no surprise that popular storybooks are taking off because they're more than just entertainment. For the same reason, many authors set out to research this field and select popular tales that they would like to rewrite. However, new avatars of these ancient parables must be carefully structured. After all, rewritten folk tales must engage audiences accustomed to click-through entertainment.
How can popular tales engage?

There is no doubt that folk tales are a rich source of plots, characters and story ideas. But restructuring them into shapes and styles that fascinate the modern reader is a challenge. I realized this first hand when I translated and thus rewrote a heritage collection of Bengali folk tales called 'Thakumar Jhuli'. Since I had read the original stories, I thought it would be a cakewalk to rewrite them. I couldn't have been more wrong.
Gigantic research, proficient language skills, and nimble ingenuity went into the creation of my collection of folk tales titled "Princesses, Monsters, and Magical Creatures." Over time, I have developed a few techniques that I share here.
Rewrite the story to make it more palatable to modern readers, but make sure it stays true to its original spirit and direction. Anchor it to the basic precept while sheathing it in attractive dimensions.
Expand on the details of the original tale. One way is to vividly describe the setting. The folk tales in my book come from Bengal. Therefore, I have located each story in locations that highlight the topography of Bengal. A story unfolds on the banks of the serene Ganges amidst lush green paddy fields. Another is in the mangrove forests or perched on green hills covered in tea gardens. The scenic locations created unforgettable visuals in the reader's mind and gave authenticity to the cultural setting of folktales.
Bring story ideas and characters to life by adding twists and quirks. A king in one of my folk tales unjustly punishes his innocent queen. I added a poignant twist to the story by mentioning that no flower bloomed in his kingdom until the king repented and was forgiven by his queen.
Replace narration with dialogue. Often a long exposition can be boring, but replacing it with a conversation takes care of the monotony. In one of my tales, I imagined a ridiculous dialogue between a cunning fox and a foolish crocodile that would amuse a reader.
Changing a point of view in the tale to make it adhere to modern perspectives. And if the hare was the turtle's friend? What if he lets the turtle win the race to boost his friend's self-confidence?
Remove cruel punishments, offensive words and racist overtones. In my book, I removed all blood and gore as it would be totally unacceptable to today's readers. I also replaced the archaic words and nuances of the original tales with more understandable versions.
Rework the tales to expose the unique traditions of the region. My stories describe women drawing alpona patterns, a typical Bengali folk art. I have added in the texts the phonetic sound of blown conches usually for all auspicious occasions in Bengal. Funnily enough, I actually blew a number of conches to get the phonetic sound right. Even more surprisingly, I discovered that it resembled the sound of 'Om'!
Playing with the look and feel of folk tales is okay as long as the original idea and axiom does not change. Also, in the process of adding dialogues and descriptions, it is essential that the rewritten version does not become an endless treatise. People have a short attention span today and wordy folk tales will lose their readership.
I agree that rewriting folk tales is a real balancing act. Be honest with the original idea while creating a compelling tale. It can't be long, but still allows the writer's style and voice to shine through. An arduous but rewarding task in the end.
However, the reader is the final judge. As I discovered when publishing "Princesses, Monsters, and Magical Creatures," readers interpreted the stories in ways I couldn't guess or even want. But I was happy. As long as folk tales engage readers, they fulfill the author's mission.
READ MORE: Geetanjali Shree wins 2022 International Booker Prize for Hindi novel 'Tomb of Sand', becomes first Indian author to win prize