Maggie Sardino Receives Fulbright Canada Mitacs Globalink Program Award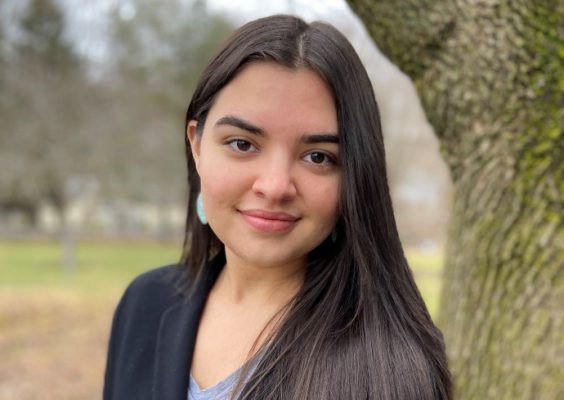 Maggie Sardino, a junior writing and rhetoric student at the College of Arts and Sciences and a citizenship and civic engagement student at the Maxwell School, has been selected as the recipient of a 2022 award through the Fulbright Canada Mitacs Globalink program.
The program funds US students to undertake advanced research projects in a wide range of disciplines for 10-12 weeks in Canada in their area of ​​interest. It also provides vocational training and opportunities for cultural and social experiences in Canada.
Sardino secured an internship at the University of Victoria (UVic) in British Columbia to work on a project called "Digital Humanities: Open Scholarship". Below, she talks about the award, her studies and her experiences in Syracuse.
Q: You are a writing and rhetoric and citizenship and civic engagement major here at Syracuse University. How did these two disciplines intersect in your studies?
A: I constantly find myself making connections between my writing and rhetoric classes and citizenship and civic engagement. Both of these disciplines focus on navigating structures of power and representation. For citizenship and civic engagement, my classes have emphasized the importance of identifying power imbalances between communities and how we can adapt practices and policies to center the voices that are systematically ignored.
Through my studies in writing and rhetoric, I have acquired the skills to articulate these imbalances and explore different systems of thought that can make new realities possible. My two studies have allowed me to become more aware of the workings of power through our formal systems of representation and our informal systems of communication.
Q: During your time in The League, you have been a storyteller throughout the Storytelling Fellowship program, a storytelling workshop partnership between the College of Arts and Sciences and the Northside Learning Center in Syracuse, and the League Globalists publication. What have you learned from these experiences?
A: Being able to work with the Narratio Fellowship and the Globalists publication has been an absolute honor. I learned so much from these experiences. The most valuable lesson was recognizing the responsibility I have as a storyteller. Stories have the ability to empower communities, forge bonds and challenge lies.
Both of these programs instilled in me that reflecting on the impact of your work and acknowledging the larger context in which it exists is essential to being an ethical storyteller. My work with the Narratio Fellowship has also given me the responsibility that storytellers have to equip others with the tools they need to share their own stories on their own terms.
Q: What inspired you to apply for the Fulbright Canada Mitacs Globalink program?
A: I was inspired to apply for the Fulbright Canada Mitacs Globalink program for two main reasons. First, it gave me the opportunity to participate in cutting edge community research. Canada is one of the leading nations in this area of ​​research and learning. I couldn't pass up the opportunity to be trained and mentored by community research leaders.
Second, the program emphasizes the importance of building relationships between the United States and Canada. As someone who hasn't had much opportunity to travel, being able to live in another country and be supported by the Fulbright network has given me the resources to immerse myself in another country and broaden my perspective.
Q: Your project at the University of Victoria, "Digital Humanities: Open Scholarship", aims to make research in the humanities more open, inclusive and accessible to a non-academic audience. Tell us more about it.
A: During my internship at the University of Victoria, I will work primarily within the Electronic Textual Cultures Laboratory (ETCL) where I will explore how we can leverage technology to make research more accessible and engaged with the public. This research focuses on how we can dismantle barriers to scholarship access, such as paywalls and licensing restrictions, so that non-academic audiences can engage in digital humanities research.
I will also explore how we can use technological tools to engage the public at every stage of the research process, from knowledge co-production to publication. All of this is aimed at creating a more sustained dialogue between academic and non-academic communities and empowering the public to take a more central position in community-engaged academic practices.
Q: As part of your experience, you will help organize and facilitate the Digital Humanities Summer Institute, to be held in June at UVic and is the largest event of its kind in the world. What will happen at this event and what do you expect to get out of it?
A: At the 2022 Digital Humanities Summer Institute, between 500 and 700 scholars, faculty and staff from the arts, humanities, library and archive communities will come together for two weeks over the summer to share cutting-edge work in the digital humanities. DHSI 2022 attendees will also have the opportunity to receive training on topics ranging from the role of data visualization in open research to anti-colonial digital humanities pedagogical approaches.
I'm really excited to see how humanities researchers around the world are moving towards more open research and more engaged research methodologies. The experience will broaden my perspective on the variety of innovative and creative ways that scholars can engage the public at every stage of the research process. As I prepare to publish some of my own research, I hope to directly apply the lessons I learn from DHSI to my work and future projects.
The Fulbright Canada-Mitacs Globalink program is open to second- and third-year students who are U.S. citizens and have a compelling reason to pursue research in Canada. Applications should be submitted by mid-October. Interested applicants should contact the Center for Fellowship and Scholarship Advising (CFSA) at [email protected]